Stancil Korean War Veterans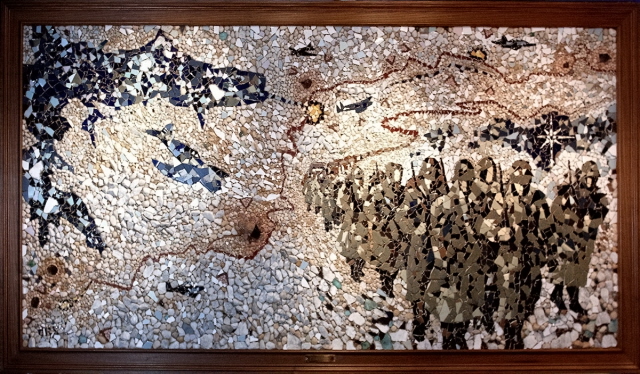 Chosin Reservoir Mosaic, Parris Island Museum, South Carolina
This intricate mosaic was constructed by
Mrs. Gilda Six
, wife of Walt, in honor of the Marines who participated in the
Chosin Reservoir Campaign
. The mosaic represents the withdrawal of the 1st Marine Division from Yudam-ni to Hill 1081, in December 1950.
James Walter Sweesy
Air Force, LtCol
Born Nov. 9, 1920
Died Aug. 7, 1971 Goldsboro, NC; Buried at Arlington National Cemetery
In Air Force from 1937 to 1968. Enlisted for war Jan. 31, 1946, in Pittsburgh. Served in World War II, Korea (Okinawa), Vietnam (Saigon); was Lt. Colonel, 1st Lt. Was married to Rose when entered World War II. Had a 30-year Air Force career

Married to Rose Marie Stancil, daughter of Thomas Emmette Stancil, granddaughter of George Ira Stancil

George Preston Hill Jr.
Coast Guard & Army, CW2
Born Oct. 15, 1926 Johnston County, NC
Died April 14, 1988 Durham, NC
Served in Coast Guard for four years from 1942 to 1946. Joined Army in 1947 at Fort Bragg, NC. Served during Korean War and two tours in Vietnam. He was a tug boat pilot and licensed harbor pilot. Participated in the testing of the "H" bomb. Retired from Army in June 1972 after 28 years of service. Received several medals while in service, including the Army Commendation Medal for Valor and Bronze Star for Valor.

Husband of Margaret Pope, son of Preston Hill, grandson of Tempy Ann Stancil Hill.

Walter Ellsworth Six
Marine Corps, Sergeant
Born Jan. 2, 1930
Died April 29, 2005, Lucama, Wilson, NC; Buried at Springhill Presbyterian Church
Joined in 1948. First trained as a cameraman and photographer. Was sent to Korea with the First Marine Division. Was the only trained movie photographer in Korea for the Marines. Duty was to take movies of the war, including the Battle of the Chosin Reservoir. Stationed at the Marine Corps base at Quantico, Va. Achieved rank of Sergeant.

Married to Gilda Gray Renfrow, daughter of Celia Rachel Stancil and James Graydon Renfrow, granddaughter of George Ira Stancil

Bill Fernie Edwards
TSGT Air Force
Born Aug. 25, 1929 Johnston County, NC
Died Sept. 21, 1998 Pinkney, NC; Buried at Kenly Cemetery, Kenly, NC
Enlisted in 1950. Spent 20 years and attained rank of Tex Sergeant.


Son of Leafy Stancil and Levi Edwards, grandson of Josiah Stancil, husband of Laura.

Billy Royce Pittman
Air Force, Staff Sergeant
Born May 10, 1930

Enlisted on Jan. 1, 1951, and was sworn in at Fort Bragg, NC. Immediately he was sent to Lackland AFB, San Antonio, Texas. This was the largest training wing in the Air Force for basic training. Then Billy was sent to Tyndall AFB near Panama City, Fla., for three months of Air Police Training. Years later the name was changed from Air Police to Security Police.
Billy was dating Jackie Underwood before he enlisted. They decided to get married on April 20, 1951; Billy wore his uniform when they were married. Billy was stationed with the 509th Bombardment Wing at Walker AFB, near Roswell, New Mexico. This was the largest Strategic Air Command Base of the Air Force. Billy enjoyed his security work. He received his discharge in 1955. For a time he considered re-enlisting.

Son of Gertrude Stancil Pittman, grandson of Harvey Stancil.

Charles Leroy Wing
Air Force
Born May 28, 1930 Andover, Ohio
Died Oct. 20, 2009 New Wilmington, Pa.; Buried at Neshannock Cemetery, New Wilmington, Pa.

Husband of Beverly Joyce Stancil, daughter of Herbert Stancil, son of Josiah Stancil.

James Albert Hill
Air Force
Born March 6, 1931

Served from Jan. 11, 1951 to Jan. 10, 1955
Was Crew Chief of The Thunderbirds

Son of Floyd "Jack" Jackson Hill, grandson of Tempy Ann Stancil Hill

James Ronald Cockrell
Army SP4
Born July 8, 1933
Died May 22, 2008 Johnston County, NC.
He served in the U.S. Army and was stationed in Korea from Sept. 20, 1954 to Sept. 19, 1956. On Feb. 6, 1956 Ronald was awarded a Good Conduct Medal. He received an honorable discharge.

Husband of Shirley Ann Stancil Cockrell, the father of Rhonda Cheryl Cockrell Rhodes, father-in-law of Larry Rhodes and grandfather of Jackson Lawrence Rhodes. (Tempy Ann/Ronia;

Duke Nelson Hales
Army
Born July 23, 1936
Died June 29, 1985 Durham, NC
Joined the Army during the Korean War.


Son of Delphia Pearl Hill and James Perry Hales, grandson of Tempy Ann.